Posted on
By Replenish Refillery & Gift
Spring is in the air!  The days are getting longer and the warm weather is a cue for you to break out the duster and get rid of unwanted items in your home.
Spring is in the air!  The days are getting longer and the warm weather is a cue for you to break out the duster and get rid of unwanted items in your home.
According to the American Cleaning Institute, 78% of Americans participate in Spring Cleaning each year which results in an influx of waste. On average, the U.S. generates approximately 8.4 billion tons of waste in a year, yet only 32.1% is recycled. The rest is sent to landfills where it releases greenhouse gas emissions that contribute to climate change.
Low waste living is a great way to deal with our waste crisis and minimize our impact on the planet.
What is low waste living?
While a zero-waste lifestyle focuses on waste creation, low waste living takes a holistic approach targeting every aspect of your life from skincare, food, fashion and more.
The best part about low waste living is that it allows you to reduce as much as you can in realistic ways. You don't have to do it all at once, instead, you can make incremental changes that can make a real difference.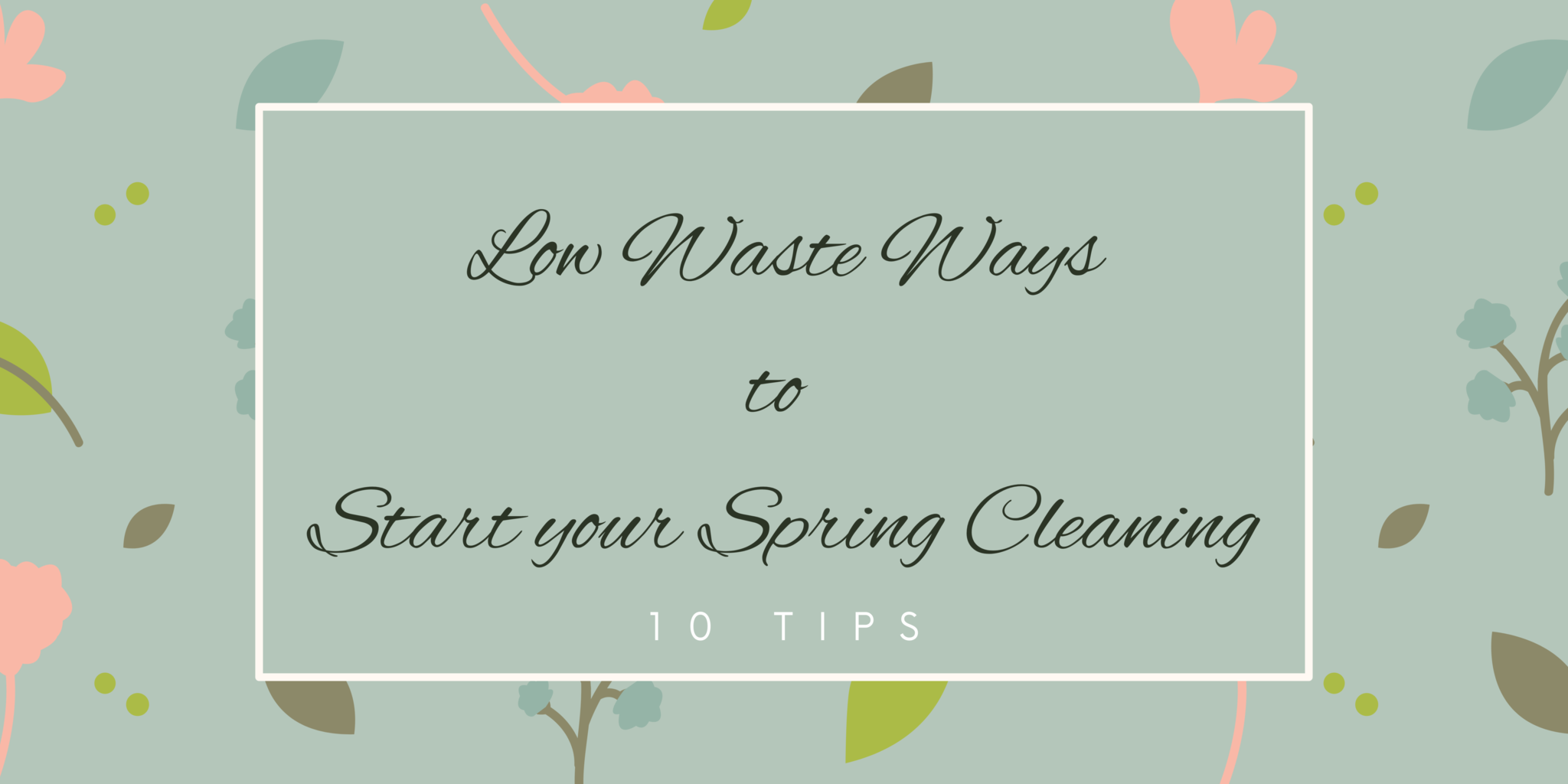 If you're interested in living a low waste life, these 10 simple tips will put you on the right track as you gear up for spring cleaning.
1. Eliminate single-use plastics
Single-use plastics are super convenient, but they come at a huge environmental cost.
A piece of plastic will live past your lifetime and take hundreds of years to decompose. By swapping everyday items such as tea bags, cling wraps, facial rounds and storage bags with reusables, you can stop contributing to the plastic problem plaguing our oceans and landfills today.
2. Opt for refillables 
Sometimes plastic is the safest choice when it comes to home products such as detergents and skincare products.
That's where refillables come in handy – they save money and cut down on single-use plastic. Replenish Reno has a wide variety of refillable products to choose from home cleaning products, bathroom essentials, kitchen supplies and more. What's amazing about them is that they're made with natural ingredients which means they're not only good for the environment but also good for you.
3. Start Recycling
Recycling is touted as one of the most effective ways to protect the environment for good reason. It conserves natural resources, saves energy and minimizes greenhouse gas emissions over time. Recycling is easy - all you have to do is register with a local curbside program and find out what to place in the blue bin.
4. Go Thrifting
Ditch fast fashion and go for second hand clothing. Exploring your local thrift stores is guaranteed to save your pockets and help you curate a one-of-a-kind wardrobe that showcases your unique paste. 
5. Get a Compost Bin
Did you know that food waste is a huge contributor to climate change? Americans discard roughly 30-40% of their food which emits methane, a greenhouse gas that is 25 times more potent than CO2 in landfill. 
On top of planning meals and storing food properly, composting can reduce emissions that come from your kitchen.
Getting started is even easier than you might think! We have a great, local company called Down to Earth Composting that has weekly pickups to take away your compost. And get this, their pick-ups are done by bike - further reducing carbon commissions.
6. Buy in bulk
Buying in bulk reduces food waste and helps the environment by cutting down on single-use plastic packaging. While it is tempting to take advantage of any bulk discount available, ensure that you only buy items that you consume in large quantities. The best bulk buys are the ones that need to be replaced on a regular basis.
7. Try DIY
Discover your inner chemist by creating your own household products. You can make glass cleaners, laundry detergents, room refreshers and more using simple ingredients that you can find in your pantry including lemon, baking soda, white vinegar and cornstarch. Here are a few recipes that can help with your spring cleaning.
8. Shop local
Large corporations are known to use excessive plastic packaging and emit millions of metric tons of carbon emissions. On the other hand, locally-owned businesses have a significantly lower carbon footprint and support the local economy. If you're looking for somewhere to get a gift, grab a coffee, or shop for new clothes can we suggest The Basement *Wink*
9. Donate items
Spring cleaning is bound to leave you with a significant amount of furniture, old clothing and other household items. Before tossing them in the dustbin, see if they can be given to friends and family. If not, send them to donation charities such as goodwill, the Salvation Army or Habitat for Humanity. You'll be doing some good while looking out for the planet.
10. Buy less
One of the most challenging aspects of low waste living is cutting down on consumerism. With the prevalence of social media, you might find yourself on the constant hunt for the new shiny thing. 
 A "less is more"mindset is essential for low waste living. The next time you think of buying an item you only want but don't need, wait a week or two and see if it's still worth the effort.
Wrapping up
The joy of low waste living is in making changes to your lifestyle that are not only meaningful but also sustainable for you.
We hope these tips will help you through the transition process as you step into springtime.
Visit us inside of The Basement Reno at 50 S Virginia St Suite 3, Reno, Nevada 89501.